Smart DC: experience holistic, real-time visibility into the environmental performance of your data center and infrastructure
Faced with the high levels of electricity consumed by data centers, professionals in the sector are becoming increasingly aware of their eco-responsibility. To reduce the environmental impact, they are developing advanced technologies such as free cooling, investing in an increasing range of renewable energy sources, monitoring environmental standards and good practices, achieving energy accreditations (Codes of Conduct) and rigorously evaluating environmental impacts when choosing installation sites.
---
However, the greenhouse gas emissions produced by data centers are not only related to air conditioning and cooling systems. Calculating their environmental impact must also take into account the entire life cycle – from the production and operational phases of buildings, power generation and cooling systems, to their end-of-life processing.
At DATA4, we believe taking a sustainable and responsible approach means educating our customers about the specific environmental impacts related to their IT equipment. And the best way to do so is for us to adopt the life cycle analysis approach for our IT equipment, which takes into consideration the environmental effect arising from their manufacturing, operating and recycling phases.
Smart DC: a real-time decision support tool to optimise IT resources
To meet this challenge, DATA4 developed Smart DC. An exclusive advanced management solution, in the form of a dashboard, which has been designed to optimise the management of hosting spaces and companies' environmental footprint.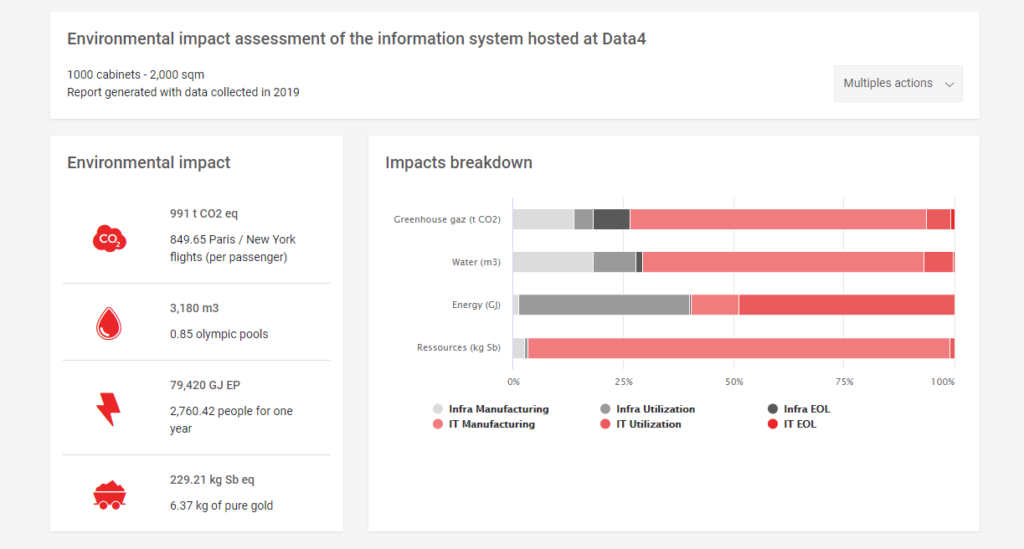 In addition to an efficient Data Center Infrastructure Management system (DCIM), the SMART DC solution provides indicators showing the overall environmental impact of a customer's infrastructure throughout its entire life cycle, as well as the data center's impact, calculated in proportion to the client's usage. Through analysing various KPIs – energy and water consumption, greenhouse gas emissions, energy use and the use of non-renewable resources – Smart DC's objective is to enable DATA4 customers to measure the impact of their infrastructure, which includes that of the DATA4 supplier as well as their own IT equipment (network, storage and server). Customers therefore receive a holistic view of the entire lifecycle, from the design phase right through to construction, operation and destruction, in compliance with the entire series of standards ISO 14040 to ISO 14044. Thanks to key indicators detailing the environmental impact of their IT assets hosted in co-located data centers, companies become better informed and capable of adopting more sustainable practices – such as choosing "greener" equipment or extending the operating life – and integrating them more extensively into their CSR strategies.
DATA4's goal as a European data center colocation operator is to make environmental responsibility part of a collective and virtuous approach that involves the whole industry. An approach we believe is necessary for our company to continue its quest towards digitalisation, while maintaining the greatest respect for our planet.