Scalability

Flexibility

Energy

Connectivity
As the datacentre industry evolves, it will enter an 'intelligent era' that is software-defined and automated. But this isn't just a future vision; many of its benefits can be accessed today.
While businesses seek to manage risk, maximise performance and cut costs, the majority lack the visibility and control of their infrastructure required to reliably deliver these outcomes. Such benefits can only be realised if you have access to three key capabilities – visibility, management and agility.
DATA4 solution provides unique visibility of your datacentre operations thanks to DCIM capabilities that are integrated into our infrastructure. Data is accessed in real-time through our customer portal, and capabilities can be enhanced through a DCIM-'as -a-service module. The solution is delivered whether you take a single rack or a dedicated room.
The Smart Datacentre from DATA4 provides full-visibility decision making.
DATA4 currently operates 15 data centers throughout its platform.
A hosting offer adapted to your requirements: from subscription to a "shared customer space" colocation rack to a customised dedicated building.
Optimise the logistical management of your computer environment via our dedicated customer portal (storage space, access management, provision of integration rooms, meeting rooms, etc.)
Delegate the operational management of your computer environment (supervision of infrastructure, on-site technical support, security, etc.)
DATA4 provides you with a Customer Portal, enabling you to remotely manage your hosting area and all related operations. The Customer Portal, based on the ITIL model, is a secured web interface that is available 24/7 and designed to optimise and simplify the operational management of our customers' IT environments.
[White Paper] Datacenters France | The ideal location
Temperate climate & quality energy at low cost
Dynamic ecosystem | Large network in Paris & regions with attractive real estate
Stable and demanding regulatory framework & one of the most competitive economy in Europe
Fully aware of its environmental responsibility, DATA4 integrates energy efficiency into the core of its operations at all levels of the life cycle of Data Centers.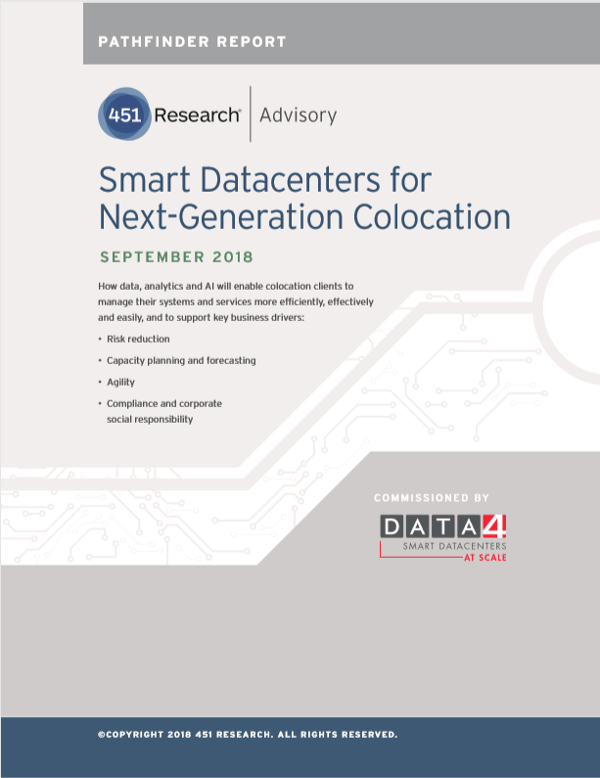 [White paper] « Smart Datacenters for Next-Generation Colocation »
Risk reduction
Planning and forecasting ability
Compliance and Corporate Social Responsibility