12 digital best practices during social distancing
Due to  the containment situation imposed by the Covid-19 epidemic, governments, companies and individuals are relying on technology more than ever to get things done.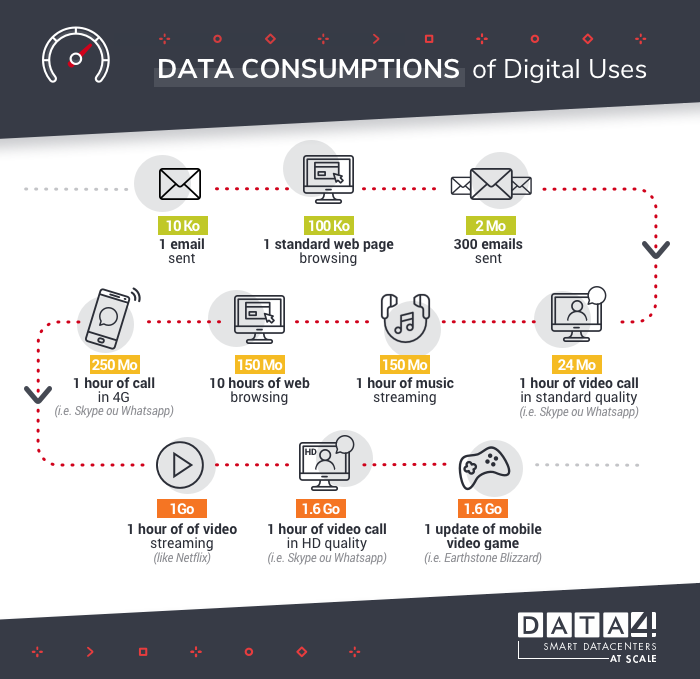 Faced with the increasing use of internet networks and certain service platforms during social distancing, European Internal Market Commissioner Thierry Breton asked telecom operators and streaming platforms on 18 March to take action to lighten networks to facilitate teleworking and online education.
Netflix was the first platform to respond to the European Union's request by reducing speeds on all its streams in Europe for 30 days in order to ease the pressure on the Internet, as announced on Thursday 19 March by its CEO Reed Hasting.  As a result, Netflix traffic on European networks will be reduced by approximately 25%.
However, this must be a collective effort. Someone watching a streaming video will have to share the bandwidth with a remote worker or distance student, to the detriment of a professional video conference or an online lesson.
This is why users are for their part "encouraged to make responsible use of leisure activities". Thierry Breton recommends using settings that reduce data consumption, including WiFi, and "choosing a lower resolution for content whenever possible".
Intelligent data consumption
Here is a non-exhaustive list of good practices for browsing social networks, or using streaming applications, instant messaging, or the many mobile applications.
12 BEST PRACTICES FOR VIRTUOUS DIGITAL CONSUMPTION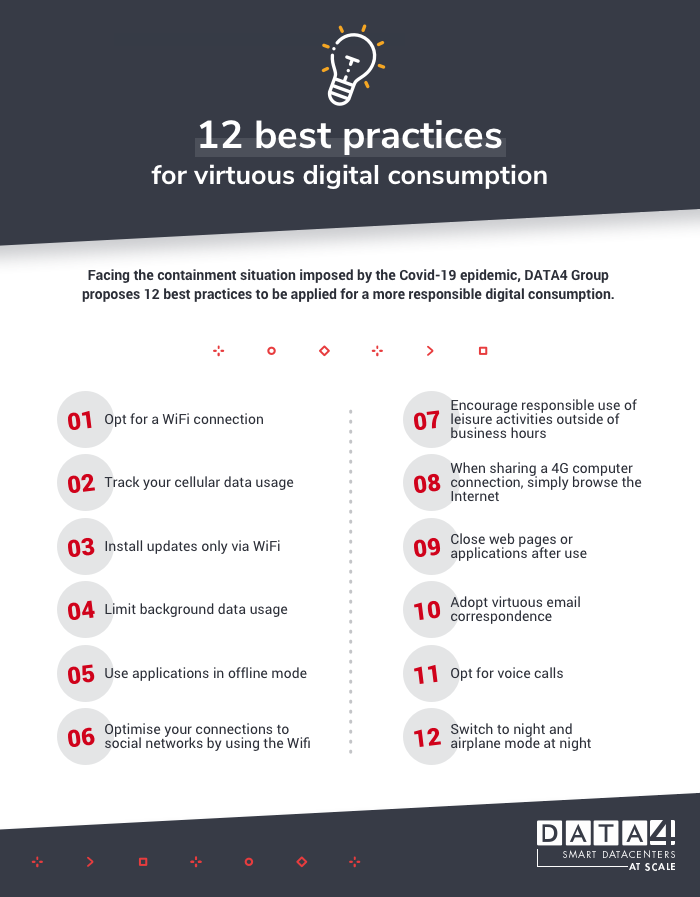 1- Opt for a WiFi connection from your home box to connect your phone and computer.
2- Track your cellular data usage via your mobile phone settings.
3- Install updates only via WiFi, especially for the most data-intensive mobile gaming applications.
4- Limit background data usage to avoid unexpected background data loads by selecting usage restriction in the settings, or turn on low-data mode in the cellular data category to reduce WiFi and cellular data usage.
5- Use applications in offline mode: Choose offline mode to view certain content applications such as Pocket, Netflix, or Spotify.
6- Optimise your connections to social networks by concentrating your WiFi practices outside of critical business hours, i.e. before 10 am, between 12 and 2 pm and after 6 pm, by activating the data saver in the settings as with Google, Facebook, Twitter or Snapchat. Share photos instead of videos.
7- Encourage responsible use of leisure activities outside of business hours.
8- When sharing a 4G computer connection, simply browse the Internet and avoid downloading or streaming.
9- Close web pages or applications after use.
10- Adopt virtuous email correspondence, by grouping your requests in one email, and limiting
11- Opt for voice calls rather than video calls that consume 50 times more bandwidth.
12- Switch to night and airplane mode at night.