DATA4 Luxembourg is a central hub for a range of European destinations at the crossroads of European telecom networks.
A prime location:
3 Data Centers, totalling 3000 m² of IT rooms
8 MW of power capacity
Resilience and redundant building design
Optimisation of energy efficiency to control impact on the environment
A range of accreditation levels, Tier II, Tier III or Tier IV adapted to customer requirements in terms of low, medium or high density for a rack, cage or room
A sophisticated security system, with 24/7 CCTV monitoring
Multiple interconnection nodes providing direct access to the main European and global carriers & ISP.
Our resources in Luxembourg
A telecom hub located in the heart of Europe
DATA4 Luxembourg is in the centre of the European telecom networks, making Luxembourg a key European hub:
Access to the Luxembourg commercial Data Centers
ISP interconnection points
Access to the main POPs of telecom operators
Black fibre operator interconnection points
A project?
Contact our experts!
Data Centers in Luxembourg : our certifications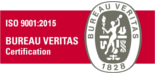 ISO 9001 : 2015
Management de la qualité
DATA4 :
Campus de Data Centers
@ Luxembourg