WITH SMART DC,

make your INVISIBLE infrastructure PLAIN TO SEE
SMART DC provides you with outstanding management, connectivity, security, and visibility of your hosting spaces.
In the software-driven age, with SMART DC you are in control: you monitor environmental conditions, you keep your list up to date, along with the layout and connections between your equipment, you estimate what resources are available, you optimise your architecture, and your track its environmental impact, end-to-end.
With SmartDC, DATA4 is bringing you unrivalled visibility of its infrastructure, so that you feel right at home.
D4 Smart Data Center

Smart Data Centers. Delivered today, ready for tomorrow.

Visibility

Management

Supervision
Performance

Sustainable
We make the invisible plain to see!
With SmartDC, get access to next-gen shared centers via our integrated custom DCIM tool.
Right from your DATA4 customer portal, SMART DC gives you a total overview of your network, the room in which it is hosted, and the electrical infrastructure that power it. No more need to travel to the data center to monitor your hosting space and infrastructure. With SMART DC, get real-time visibility of your network.
Tool built in to customer portal
Instant overview of your environment: temperature, power, moisture
Visual representations of your IT equipment, racks, cages, and rooms.
Cabling overview: wiring closets, connectors, electrical connections, etc.
Physical representation of your IT network
Quick and easy infrastructure management for optimal performance and availability
SMART DC provides you with a general and detailed overview of your hardware, as well as the hardware, cables, and power supply provided by DATA4. You can see any installed backbone cables not in use, all cross-connections already in use, and the points to which they connect. You can also view the electrical sockets and cable network, all the way back to the source.
SMART DC provides an overview of your infrastructure on your dashboard in the DATA4 portal.
Overview of rack and hardware locations – the space and energy used
Detailed view of jumpers and cross-connections
Identification of jumpers already set up towards Meet Me Room or another computer room
Capacity management for better return on investment
With SMART DC, get a real-time view of the space, power, and connectivity available in your hosting space. You can view the space available to add a rack, the remaining power available to each rack, or the space between two servers in 2D and 3D. SMART DC lets you identify any available multiple plugs or unused ports in wiring closets.
In just a click, SMART DC lets you maximise your use of resources for optimal management of your growth.
Instant 2D mapping of your customer spaces and the space available for new racks
View of the power and space available in each rack, cage, or room.
View of electricity sockets and ports available in wiring closets and on IT hardware
Real-time information on malfunctions within your infrastructure
When a problem occurs in your infrastructure environment (temperature, power, or moisture), you need to know as soon as possible.
Smart DC is designed to help you understanding the when, where, and severity of the problems that occur. You can get custom alerts for optimal management of your infrastructures performance.
Power used – almost instant
Moisture – almost instant and 12-hour average
Temperature – almost instant as well as daily min. and max. over past month
Repairs
Instant identification of faults for speedy solutions and optimal availability
If any hardware encounters a problem, SMART DC lets you see exactly where it occurred, what the environmental conditions were when it occurred, and trace it back to the electrical cables to try and find a solution.
SMART DC also lets you pre-position new hardware, perform a power inventory within the rack, and draw cable and power supply diagrams to optimise all of your architecture and facilitate the work of installation technicians.
If malfunctions are rare, they should be fixed quickly and SMART DC definitely helps.
Locate your hardware at any time
Monitor historic and current environmental conditions for each of them
Trace back power cables to identify potential failure points
Identify optimal locations for new hardware
Virtually install your hardware, cabling, and power supply
Optimising resilience
Availability is the key performance criteria for your infrastructure. SMART DC supports availability by providing a general overview and detailed view of is power supply. At a glance, you will be able to tell which hardware is at risk and, in a matter of minutes, work with our experts to create a comprehensive map of the electrical cable network. Check that all of your equipment has redundancy in the power supply at all times.
SMART DC makes your electrical cable network easy and effective
See which hardware has no dual power supply, at a glance
Simulate the consequences of an electrical failure
Optimise power supply chains to maximise redundancy
Optimising power
Because electricity consumption comes at both a financial and environmental cost, we help you to reduce your electricity use: In addition to the layout software provided when you get your space, SMART DC helps you to visualise high-density areas, and therefore the hot spots in your infrastructure. With SMART DC you can redesign your room and make sure that the power is balanced to boost resilience, reduce hot spots, and why not improve your power usage effectiveness (PUE) along with it.
Working together for a greener world.
Simulate thermal flows in your IT space before you install hardware
Identify high-density racks and hot spots
Spread your loads across the whole space
Environmental Responsibility
Responsible hosting for sustainable computing
Beyond the financial concerns, SMART DC lets you create an accurate report on the environmental impact of your infrastructure, across its whole life-cycle. With SMART DC, get a detailed view of your hardware's environmental impact, along with the DATA4 electrical equipment and buildings your infrastructure needs in order to run.
Your customers want to know what you are doing to help the environment. It's easy to find out with Smart DC
SMART DC aggregates the individual environmental impact of each piece of your hardware
SMART DC describes its impact in CO2, water, electricity, and rare earth elements, from production to end-of-life.
SMART DC tells you DATA4's share of the environmental impact of your infrastructure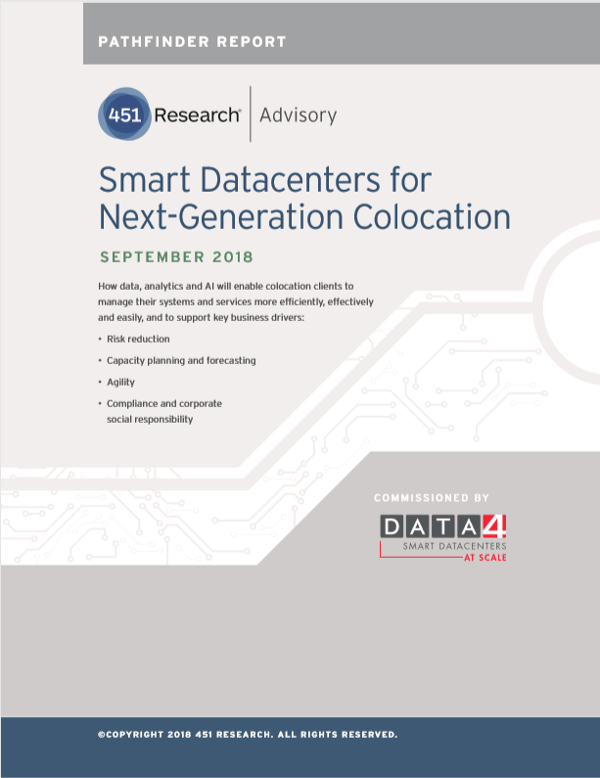 [White paper] « Smart Datacenters for Next-Generation Colocation »
Risk reduction
Planning and forecasting ability
Compliance and Corporate Social Responsibility