D4 Smart Datacenter

INTELLIGENT DATACENTERS. DELIVERED TODAY; READY FOR TOMORROW.

Visibility

Management

Performance

Agility
A DCIM 2.0 tailor-made

FOR YOUR INFRASTRUCTURE
A unique integrated solution to deliver full agility in the data center management.
The DATA4 Smart Datacenter provides an infrastructure that is highly transparent, manageable and agile.
Using this solution, your business will benefit from: risk reduction, performance, infrastructure management, compliance & CSR.
Improve response times and prevent data center issues, thanks to 24×7 end-to-end visibility of your infrastructure.
Accurately plan your infrastructure to meet operational needs – encompassing racks, space, power, cooling, and network connectivity.
Visualise your datacenter resources, identify underutilisation and optimise performance – so you're more agile.
Ensure you comply with regulations and internal requirements, and gain easy access to key KPIs for the environmental impact of your data center operations.
Together the 4 success factors of DATA4 DCIM 2.0 provide a smart platform for a more agile Infrastructure.
D4 Smart Datacenter

TECHNOLOGY
DATA4's Smart Datacenter improves your visibility and management thanks to the DCIM functionality that is integrated within our infrastructure. This delivers real-time reporting and alerts, capacity planning, maintenance planning and a complete list of assets and services.
For organisations that want greater insight and control, the DATA4 DCIMaaS solution provides a range of enhanced capabilities such as: 2D/3D visualisation; asset management; real-time reporting & dashboard; capacity planning; CSR KPIs; and workflows.
The rich data available from our smart infrastructure can be accessed through the user-friendly web portal.
Access real-time visibility on your DC infrastructure
Real-time reporting & Alerts
Capacity planning
Online maintenance planning
List of assets and services
Choose an integrated tool to efficiently manage your IT equipment
2D/3D Visualisation
Asset management
Real-time reporting & dashboard
Capacity planning
CSR KPIs
Workflow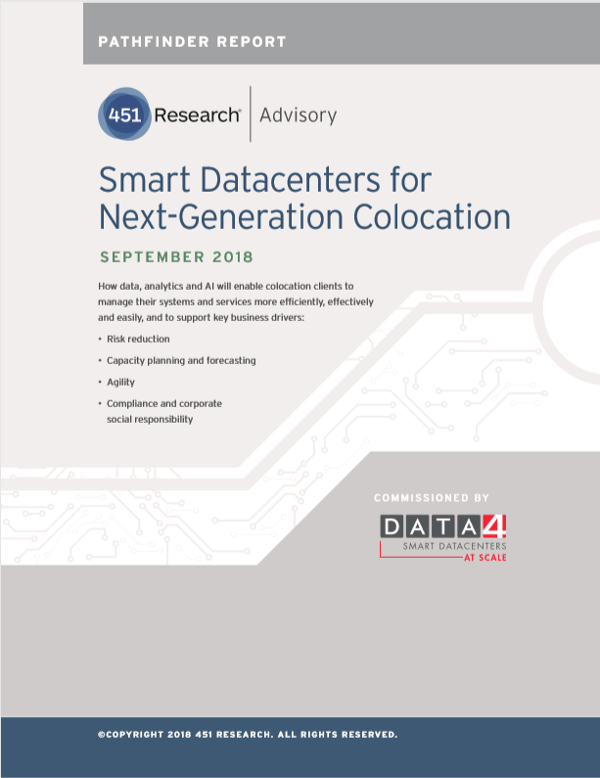 [White paper] « Smart Datacenters for Next-Generation Colocation »
Risk reduction
Planning and forecasting ability
Compliance and Corporate Social Responsibility